You can now offset your current 'dirty' energy with clean and renewable wind energy. For all the energy you use from the electric grid, we put the same amount of clean wind energy onto the grid. Your current energy supplier and reliability of service don't change at all. Real simple!
If you'd like to switch to wind, we recommend Arcadia Power. They have an easy-to-use platform with over 100,000 happy users. Here are some additional benefits we found:
100% Free To Use And You Get A $20 Amazon Gift Card
Auto Bill Pay With Credit Card / No Transaction Frees
One of the best parts about Arcadia Power is that it's so easy to offset with renewable wind energy. Just enter your information, link your utility account, and get your Amazon Gift Card.
It's super easy to check in on your energy usage and see how much energy you have offset each month: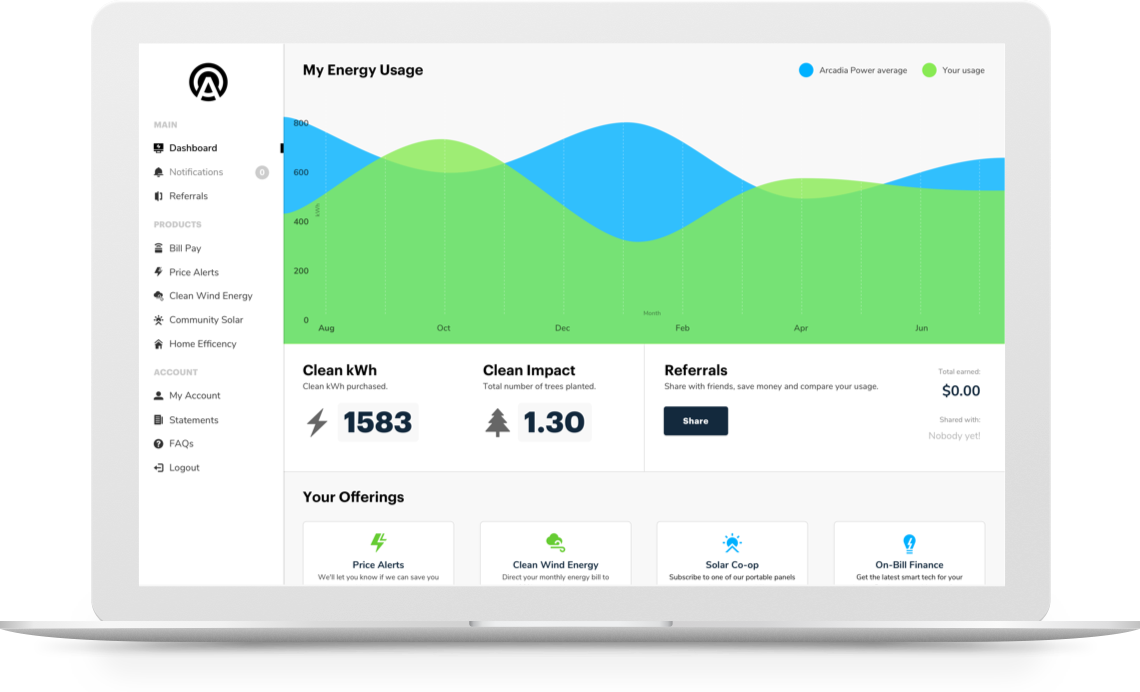 When you set up credit card auto pay with Arcadia Power, you can earn credit card reward points when you pay your electric bill! Arcadia covers any transaction costs with your utility.
One thing to understand: Arcadia retrieves your bill electronically from your utility and pays it for you. For them to do that, you have to provide them with the online login and password for your utility account. So, if you don't have an online account with your utility, you need to set one up first--but it's worth the hassle for reward points and a $20 Amazon Gift Card.
Every kwh you get from the sun is one you don't buy from the energy company! You can also get a substantial federal tax credit, around a third of the cost of most solar systems. There are also solar options if you don't put solar panels on your rooftop.
We recommend Energy Sage if you want to make the switch to solar. They let you quickly search competitive solar quotes in your area. Here are some additional benefits we found:
100% Free To Use With No Commitment
We really like that with Energy Sage you only have to enter your zip code to see solar companies in your area. No need to enter lines and lines of information.
Once you provide a little more information (like home address) you are able to see competitive quotes from several solar companies as well as their ratings and reviews.
If you do decide to take the next step toward clean solar power Energy Sage has options for financing your entire installation. You can complete the whole process online too.
Thanks to solar financing you can pay for your solar installation in monthly payments. Often the monthly payment will be less than your current energy bill. The best part is that over-time solar will pay for itself!
Estimate Your Next Bill >>